Today's flashback is from December 29, 2007. It is the day that I finally got Jorge to marry me! (it just took 8 years)
It was a crazy time. I picked the date because I knew that the church would be decorated for Christmas and I wanted to have all of the beautiful flowers and decorations. It also saved us from having to by flowers for the church.
I don't want to write a whole lot about this day because even though it is such an amazing and important day in my life, it is also sad in a way. I no longer speak to my maid of honor or one of my bridesmaids. I did have two junior bridesmaids though. Jasmin and Sidney were both junior bridesmaids.
We had an awesome reception. We had a mariachi band playing during cocktails. They were amazing. We also had a beautiful cake that was also extremely delicious. I don't think I was a bridezilla at all. I just was upset that it was taking so long to get through dinner because I really wanted to get to the dancing.
Jorge and I had the traditional first dance. We danced to "god only knows" by joss stone. Then my dad and I had our father daughter dance. We danced to "daddy's little girl" and then it broke into "pink Cadillac" it was so much fun because it was unexpected. We didnt practice but I had people ask how long we practiced!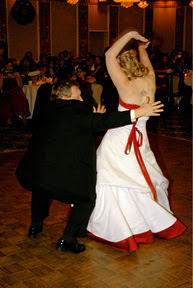 We danced all night long! It was awesome! I know I keep saying that but it really was an amazing night.
We have this picture on a canvas above our tv.
This picture is one of my very favorites.
Four years later and we are still going strong. If it wasn't for this wedding gabe wouldn't be here. I told Jorge that I wouldn't have children without being married first. Shortly after our two year anniversary I found out that I was pregnant.
I hope you enjoyed this flashback. I also hope that everyone has a very happy new year!
- Posted using BlogPress from my iPad