Um....where have I been? I have wanted to blog about sleep issues and the snow. Sleep issues have overtaken my life so I haven't been able to write about anything! More about that later...now, snow!
Ok, so I know it was last week, but it was amazing! Gabe was sleeping when it really started snowing. He woke up to a winter wonderland. He was shocked. He said "pretty" which he hasn't said in a long time.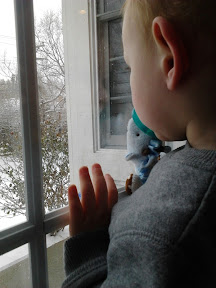 I asked him if he wanted to play in the snow and he nodded. We got ready to go outside. Unfortunately, I didnt pack his snow pants. I was in denial that it was really going to snow, wasnt it just forty? We went outside anyways. We had a great time!
I threw snowballs at him and he laughed and laughed! It was a great mommy moment. I loved that we got to share this first together. Obviously he has no idea about the blizzard that he lived through last year.
I think I now love snow. I never played outside with Molly and conor, but now I'm looking forward to more snow and more fun. I cannot wait to share cups of hot chocolate! Yeah snow! (what's wrong with me?!)
- Posted using BlogPress from my iPad