There have been a bunch of things that I have wanted to write about, I just need to get enough time to write about them.
I think that I will start with body issues because that has been weighting heavily on my mind for quite some time. Yes, I believe that I have talked about this in the past. However, I have been thinking about my body, especially since I go to dance every Wednesday. I get to look at my body in lots of floor to ceiling windows. Ugh!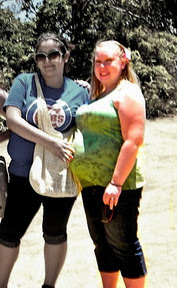 This is me, two months away from my due date. I'm probably around two hundred pounds. This was one of my favorite shirts to wear. When I look at this picture, all I can see are my chubby arms and super swollen face.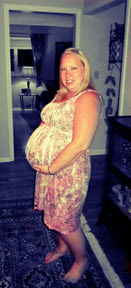 This is me a few weeks later at one of my baby showers. I am all over swollen. My feet, my face, and my belly of course!
I wasn't delusional, I knew that gabe was not going to come out and I was going to be skinny again. I didn't expect it to be this hard though. I'm trying to eat better, I'm trying to exercise. I'm stuck at 156ish. Some days a little more, some days a little less. Dance is challenging enough, I hate feeling so self-conscious about my body.
Here is a current picture. I think I'm doing a little injustice to myself here. I'm glad I don't look like I did in the first picture, but I feel like I look skinnier here than I actually am. Sidney got a good angle!
I'm going to keep plugging along, trying to lose the weight and gain confidence. Thanks for listening. Also, I found a great website that makes me feel a little bit better, like I'm not alone. www.ashapeofamother.com It has all kinds of pictures of mothers, some naked, some not, talking openly about their bodies during and after childbirth. You should check it out if your interested.
- Posted using BlogPress from my iPad