Wow! Yesterday was a busy and awesome day! It began with a playdate between gabe and Kyle. We went to the exploratorium in Skokie. It was like a mini museum in the basement of the Skokie park district building. There was a water section that I know gabe is going to love the next time we go and he's a little bigger. There was also a cool climbing thing that in a year or so gabe will be totally into. Kyle tried it once. He loved it but was still a little too young for it. That's not to say that he didn't keep trying to take his shoes off and do it again! Gabes favorite part was the music wall. He loves loves loves music. He loved banging the drums and cymbals. He hardly checked out the rest of the things because he loved the music wall so much!
Last night we did something that I have never done....we went to a high school football game! My dad was one of the referees for the game and Molly was cheering. I hope we made both of their days. It was freezing but pretty cool. My dad was running up and down the field. He got pretty close to being run over at one point. Molly cheered and gabe pointed at her. It was totally worth it for me! I never went to see my dad referee before so it was pretty cool. Gabe really enjoyed listening to the band and watching all of the action. It was the first game my mom went to too! I'll share pictures of the game soon.
My little man is becoming quite independent. While I was putting away his laundry today he made himself comfortable in his Elmo chair and grabbed sidneys game controllers. It was too cute!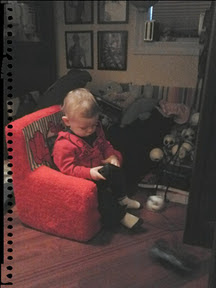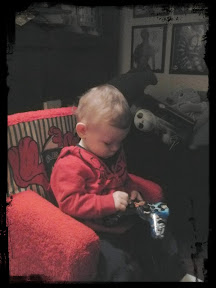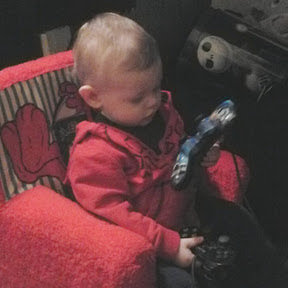 - Posted using BlogPress from my iPad