No, not toys r us. We are too cool for that store. We went to Quake Collectibles in Lincoln Square. It is jorges favorite place. He could spend hours there if I let him. I think the longest we have spent there is probably an hour and a half. It's great if you love vintage toys. It's also great if you get to talk to the owner, Dave. He's awesome! He is seriously one of the nicest and cleverest guys ive ever met.
Here's a peek into his store....jorges wanna be home away from home
Gabe and Sidney both love it too!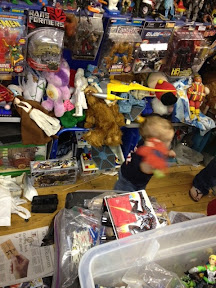 Here is Dave, gabe and I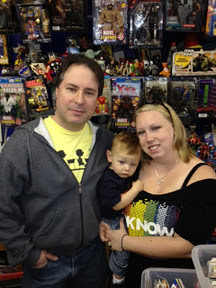 It was such a beautiful day yesterday. We took a nice walk around Lincoln square. Gabe even did some walking himself. It really is amazing now that he can walk! We went in one of the little stores and I got a "G" charm for a necklace that I just decided is going to be a charm necklace. Hopefully I can find something really cool to add to it in Hawaii this year!
I really wanted a coffee while we were out and we stopped at this little cafe that we always just walked past. The coffee was good....better than Starbucks, but what was really amazing was the smoothie Sidney had. It was called a white smoothie and it tasted like Hawaii, pineapple, coconut and orange juice with some yogurt....yummy! I was a little jealous.
Our day ended with a yummy Sunday dinner at my moms. She made meatloaf which just topped off jorges great day. Meat? In loaf form? He will take it! I don't think I mentioned that I actually made Sunday dinner last week. I made abondigas. It's Mexican meatball soup. It was actually pretty good. It wasnt as good as my mother-in-laws, but it was good.
I almost forgot! We got gabe a book that he was reading in the car on the way to Grammies.
Jorge and I both hope that gabe has a love of reading like we do
Ps....thanks for the gift Stacey! We are going to put it up tonight!
Posted using BlogPress from my iPad