It's Friday! I love doing this, I think I've said this before, but I really love being able to share with my blog followers all the crap (I mean beautiful photos) I put up on instagram. As always, I encourage you to check out, rockin' mama!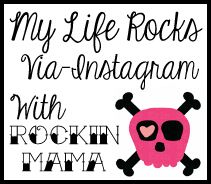 Gabe wears his sunglasses at night
Curls! (and a cute little dimple)
Photo a day...favorite thing. Gabes favorite thing is music
A sweet moment. They used to do this all the time when gabe was little
Today at nap time for a take a turn challenge. Funny thing is that I actually took the picture this way and didn't need to turn it.
I also realized that I deleted a lot of photos that I put on instagram this week. I'll try to pay more attention next time I decide to delete stuff.
- Posted using BlogPress from my iPad