I always knew that I wanted to be a mom. I just had this motherly instinct i guess. My mom was a stay at home mom for most of my childhood. She went back to work when I was in high school. So, I guess that had something with my desire to be a mom. I think when you have a good role model then that's what you would like to emulate too.
I had wanted to be a teacher when I was in high school, and then I did go to college for education. However, along the way I worked at a Montessori school and realized I liked working with kids a lot but there were drawbacks to working in a school environment. But, I knew working with kids and having a family was for me.
I could keep going on about how I knew I liked kids, but what I really wanted to blog about was how I love being a mom.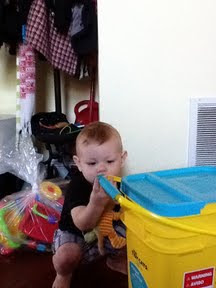 I just look at gabe and my heart swells. I am so in love with this little person. It's hard to believe that he wasn't in our lives eleven months ago. I don't know what I'd do without him. It is stressful sometimes. It's frustrating sometimes. Overall though, I wouldn't trade him for anything. I also knew that I wanted to be a mom but I didnt know I'd love it so much.
I had my doubts while i was pregnant. I was afraid I'd be a bad mom. I was worried about having the responsibility of taking care of someone for the rest of my life. In the first few months I was also worried. I was worried I wasn't taking care of him well enough because I couldn't breastfeed or whatever silly little thing I could think of. It was a stressful time in the beginning, with pumping and going back to work after two weeks.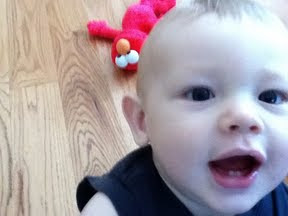 I think I'm a good mom. I hope I'm a good mom. I try to do everything I possibly can for him. I think that's why the iPad was such a struggle for me. I don't really uy myself things anymore. I am always thinking about gabe first. I just love him so much. Maybe one day he will read this, possibly during those crazy teenage years, and know his mommy love him more than anything else and that he always brings a smile to my face and a song to my heart.
- Posted using BlogPress from my iPad