Pre-thanksgiving nap...
Thanksgiving is my very favorite holiday. I love everything about it. I love the food, and I love getting together with my family. It's usually been a while since I've seen most of my cousins and my aunts and uncles. My dads side never celebrates thanksgiving with us. We always go to my moms side. They rotate who has to host. This year it was my aunt Judy. Jorge and I have also started a rotation. One year we will go to my moms side first and then the next year we will go to his moms house first.
This year we went to the Sanchez house first. They have their own version of a thanksgiving meal tradition. We had posole, flautas, ham, Milanese steak, potato salad and yummy cookies that jasmin made. We also played loteria, it's the Mexican version of bingo.
Then, we went to my aunt judy's house. I was so stuffed but I managed to eat a plate of turkey, green bean casserole and sweet potatoes. It was delicious. Both meals were delicious! It was nice seeing my cousins. I love that they read my blog! Hi Guys! <3 it means the world to me that people are out there and interested in gabes life. I have a lot of fun with my cousins on my moms side because we are all close in age, from 31 to 24. We also spent a week in the summer together in Wisconsin for many years. (I'll have to put up some of those pictures for a flashback day)
Today jorge and Sidney (and Cristina, jasmin, and their mom) went out shopping at three in the morning. They went to woodfield and said it was packed. Jorge bought himself a Christmas present, a very nice wool coat. I really wanted to go but I didn't want to wake gabe up that early and have him be super cranky at a super crowded mall. Then I would be super cranky too!
When they got home gabe and I had just gotten up, and they were ready for bed but I wanted to go out too. We went to target (not too crowded) and carters (super crowded). Carters was awesome because the whole store was 60% off until noon! Hello warm winter pjs for gabe! We also went out to lunch. Its so nice to be together as a family. It seems like it's always gabe and I, so when we can I like to do things together.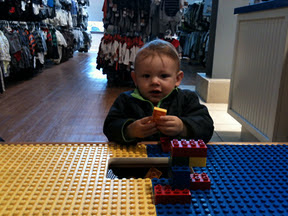 Post shopping nap for everyone (not me)
Busy day, and there was so much more to come! We also had a party to go to this evening. It was a 50th and 17th birthday party for jorges uncle and cousin. It was a lot of fun, especially for gabe! He was running around and playing with balloons with all of his cousins. It was nice since both Jorge and I were shy kids. Hopefully I will have some pictures tomorrow! Finally time for bed!
- Posted using BlogPress from my iPad