Tuesday, Tuesday, Tuesday. Why must you be so cruel? Actually, I guess yesterday was really the unfair day. I just took it out on Tuesday instead.
The weekend was fun. It was busy as usual. Sunday was really good. Our neighbor upstairs is pregnant and do really soon, the first week of December. Her baby shower was Sunday and it was really nice. My mom went too. She felt a little out of place, but I know her presence was really appreciated. I loved talking to moms my age. I also met a photographer. Hopefully she will be able to take some super cute pictures of gabe.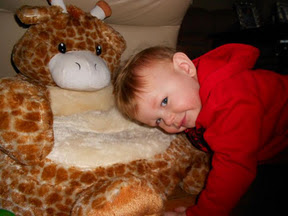 Gabe loves giraffes!
So the suckiness began when my car started making a grinding noise. Out of no where it started sounding awful. I was going to wait until Friday but I had to take it in. It sounded BAD!
Also, I feel like there is not a house out there for us. Every time I like a house and start thinking about possibilities, it falls through. Someone has already swooped it up. It can get really discouraging. I have to start thinking a little less about potential and just start thinking there is a house out there somewhere.
I also have been trying to take some new pictures of myself for the blog. Let me know what you guys think!
Tomorrow...museum of science and industry!!!!!
- Posted using BlogPress from my iPad