Let me start by saying I really dont like Halloween. I used to have mini anxiety attacks as a kid. I just hate being scared. I was always afraid that someone was going to jump out of the bushes and scare me. I was more into it this year because of gabe. I even got him two costumes!
Saturday Lincoln square had trick or treating at the stores. We went with jorges sisters and had a blast!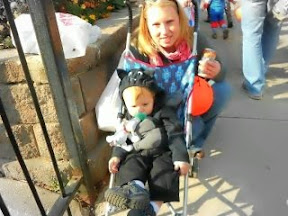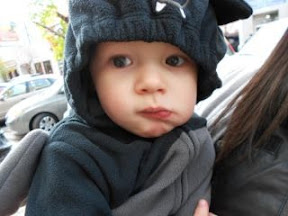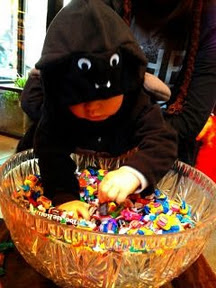 My little bat decided to put a whole bite sized snickers in his mouth!
We love shopping in Lincoln square and discovered a little sausage shop/market. It reminds me of this little fruit market by our house. They had fresh,homemade peirogies ( yummy!). They also had all of the yummy polish candies that I love!
Everyone was a little tired afterwards....
The next day, gabe was still a little tired. Although, his croup is soooo much better. I have no voice, but gabes doing better!
Costume number two....monkey!
The park by our house recently redid their playground it's awesome!! I am so excited for some warmer temperatures! I know, winters coming, but some day there will be warmer weather. It has a bunch of different sized equipment and tons of baby swings. Gabe, Jorge and Sidney had a blast even though it was freezing and so windy.
There was a professional photographer on Saturday and she bot a super cute shot of gabe and Sidney.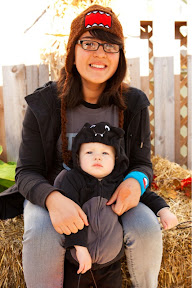 - Posted using BlogPress from my iPad