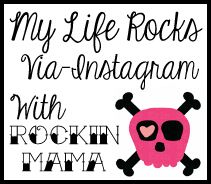 Yeah! It's Friday again and time for my favorite link up over at rockin' mama!
I hope everyone had a good week, so glad it's over but not looking forward to next week with all of the big party prep and my baby will be two (what a happy and kinda sad moment)
So this week I was all over instagram, posting, commenting...slightly addicted sometimes so there's are tons of pics this week.
Cheese! Fatmumslim's photo a day challenge...first thing you see...gabes face, everyday
Watching spongebob before bed
Someone is so sleepy after a morning with GB(grammie bean)
Young love. Maggie said "kiss me goodnight gabe"
Someone is captivated by the new construction bubble guppies
Just woke up and said "big truck" and went right back to sleep
Modeling my new skirts from @a_gremlins_closet
I loooove this kid
Fun at the park
You guys can follow me on instagram @littlemouthbaby
- Posted using BlogPress from my iPad