It's that time again! It's time to share my week via instagram!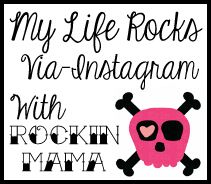 Haha! I was totally not grabbing the button the right way so it should take you to this awesome blog this time. Hey, I'm still learning because i totally suck at computer things.
1...best buds music time. Poor lucifer puts up with gabes super tight hugs. I think he secretly likes them!
2...yes! Block tower complete! He was super excited when he made a huge tower with his blocks and then got to knock it down.
3...Wednesday was Sidney's 14th birthday! Where has the time gone?
4...photo of the day...together. Gabe and Kyle love playing together
5...another photo of the day...black and white. This has been my most liked photo. Only six people but it's a start.
6...I couldn't find anything else to hold up my hair. I had a paintbrush but no hair stick thingies so u just went with the paint brush.
This picture isn't in the collage because it is one of my absolute favorite pictures. I love everything about it! (especially my cute kiddo! Haha!)
- Posted using BlogPress from my iPad